MBG™ Home Workout Kit
Regular price
$249.95
Sale price
$149.95
---
FINALLY...A COMPREHENSIVE & CONVENIENT WAY FOR ONE TO ACHIEVE THEIR FITNESS GOALS!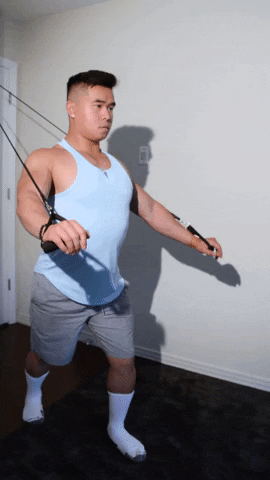 HIGHLIGHTS
Tone and Define – Allows the user to target whichever muscle group they wish. Set also comes with exercise manual for each muscle.
Strength Training – Bands can be strapped together to increase resistance. They can then be utilized to increase muscle mass.
Physiotherapy – Both sets have relevant applications in physiotherapy and kinesiology that are used by professionals in both disciplines.
Convenience – Set can be used virtually anywhere and fits neatly inside small carrying bag (included).
Durability – This set is made in a facility that adheres to the ISO 9001 standard for quality control. They have been designed to withstand rigorous use without deforming or breaking.
DESCRIPTION
The MBG home workout kit has been designed with convenience in mind, meaning it has been restructured to maximize ease of use for our customers exercising from home.
The kit makes it possible for the user to conduct over 150 different exercises from the comfort of their own home, with every muscle group and each level of intensity well represented. 
A true "no-brainer" for the busy gym lover.
The best part? Research indicates resistance-based workouts are more effective than free weights, and do not require a second person (spotter). So not only should the user experience quicker results than they would on a traditional workout regimen, these results can be achieved with just a small room and our MBG home workout kit.
Our full home workout kit includes the Resistance Band Set, the Leg Band Set and the Speed Jump Rope.
RESISTANCE BAND SET
Made with high quality elastic rubber, MBG's resistance band set has been  engineered to offer a 30% longer life span than the standard-grade rubber present in the majority of resistance bands on the marketplace. They are highly durable and therefore less likely to break or become deformed.
These bands are made in a facility that adheres to the ISO 9001 discipline with regards to our approach regarding quality control. This means that our resistance bands are made with what some call an unnecessarily high focus on quality control, ensuring our rubber exceeds both regulatory and customer requirements. This allows the set to remain durable for a wide range of uses, including rigorous strength training or HIIT.
This set includes five pull tubes of varying resistance, from light exercise to intensive training (10 -30 lbs), and these bands have been engineered to satisfy every level of intensity in your home workouts. Also included are two anti-sweat hard foam handles that are difficult to deform attached to anti-slip rubber, as well as two metal tripod ankle straps and a secure door buckle required for some exercises. The set also comes with its own carrying case, made from polyester.
LEG BAND SET
These bands are a portable, affordable and an effective tool that can be used for fitness but also have applications for rehab and physiotherapy. ACL, MCL, other knee, meniscus, tendon and ankle injuries all have treatments utilizing low-impact resistance exercise. They are made of 100% natural latex, making them light-weight and durable. Great for workouts or physiotherapy at the gym, home or on the go.
This set comes with five leg bands of varying levels of resistance, escalating from physiotherapy to strength training (10-30 lbs). Like the resistance bands, these can be strapped together to reach resistance weights in excess of 30 lbs if the user wishes, with a maximum resistance of 100 lbs. The set also comes with its own carrying case, made from polyester. 
SPEED JUMP ROPE
Skip to new heights with this Speed Jump Rope to build endurance and tone your body. The wire rope itself is extremely durable, built to withstand half a million rotations. This jump rope features ultra smooth and fast rotations, a fully adjustable cable length and non-slip handles. The perfect on-the-go accessory for a full-body cardiovascular workout.
PRIVATE FACEBOOK GROUP
​​3/4/5 Day Split Training Programs: We will also throw in a workout guide that works with you and not against you. We know life can get busy - so with the flexibility of a 3 day plan we've got you covered. As you advance into working out more frequently the 4 day training plan and the 5 day training plan are there to match the level of intensity the user is at.
The Imperceptible Form Mistakes Now Covered: Head trainer Kevin demonstrates the right form needed to avoid making common mistakes when using the resistance bands. In our video library we go over the proper techniques for proper form. All our videos cover everything in the 3/4/5 day split training units. 
Rock Solid Community: With your help we want to build one of the largest online communities of health enthusiasts. Our group will serve as a bedrock of support, solutions and progress. Once you sign up you'll be given instant access for life. 
BRAVE Athletics Partnership: We have also partnered with Brave athletics to provide a 15% discount for our clients who want to also add detailed meal plans, accountability tracking and personalized plans. We've made sure their vision, mission and principals are aligned with our expectations of excellence so you can rest easy.
PORTIONS OF ALL SALES GO TO CHARITY TO STRENGTHEN AND SUPPORT THE LESS FORTUNATE 
We plan on doing our part to help those in need by partnering with charities that focus on feeding and providing shelter for the less fortunate. 
OUR ROCK-SOLID 90 DAY MONEY-BACK GUARANTEE
When you join us at MBG, you can invest with confidence because you'll be covered by our 90 day money back guarantee. In the extremely unlikely event you aren't satisfied, we'll refund every cent you've invested with us – no questions asked.
40% OFF & FREE EXPRESS SHIPPING  for a Limited Time Only. Just click ADD TO CART to get yours now!
HERE'S WHAT OUR CLIENTS HAVE TO SAY ABOUT US...
"Been using this for 3 months now and it really is the most complete home workout kit. I can hit all my main muscle groups with the workout guide included. Its functional, but more than good enough, and none of the units are showing any signs of wear."
Mark Osborne, Accountant.
"This isn't like those other companies that sell you fitness equipment without any form of support. These guys have a turnkey system designed to guide you every step of the way until you reach your goals."
Liam Smith, Independent Landscaping Contractor.